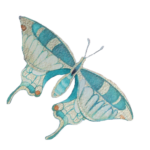 Watercolor by Sabine Picard, painter. Work created for Viametanoia © 2022 – All rights reserved.
Gospel
The Lord is saying to you: "I have summoned you by name" (Ex. 33)
"You are precious and honored in my sight and I love you" (Is. 43)
Watercolor by Sabine Picard, painter. Work created for Viametanoia © 2022 – All rights reserved.
The Lord is saying to you: "I know you by name" (Ex. 33)
"I have summoned you by name… You are precious and honored in my sight, and I love you" (Is. 43)
You say, "I don't have faith"… but how is faith measured?
Inspired by a text by Merlin Carothers
You assert, "I don't have faith" ?
In your opinion you don't have faith, because YOU DON'T FEEL you have faith. However, faith and feelings are two completely distinct domains. Faith does not come from your impressions or your emotions or your feelings or your sensations.
Faith is not measured by your feelings
In fact, the amount of faith is weighed neither by feelings nor impressions. Therefore, your feelings are a poor barometer of reality; it is the same with faith: everything is distorted if you use your impressions your emotions or your sensory perceptions to test your relationship with God. Belief is irrespective of what you feel. Faith is a matter of willpower. It is a voluntary act: You DECIDE TO ACCEPT AS TRUE what your senses cannot perceive. Faith perceives as real what our senses fail to grasp. (Heb. 11:1).
It's a matter of deliberate choice
You are free to choose! Therefore, stop letting your feelings rule the roost and stop hiding behind them as an excuse for your unbelief. Jesus invites you to choose Him, that's faith. According to the Bible, you can be saved by faith, justified by faith, protected and kept by faith; the Bible also says that you can walk by faith and not by sight, it also says that you can inherit God's promises by faith and pray in faith, overcome the world by faith and praise God by faith!
THE EXPERIENCE OF SALVATION WILL BECOME A DONE DEAL WHEN YOU ACCEPT IT BY FAITH, BY DEMONSTRATING WILLPOWER. IT IS YOUR DECISION. You are FREE TO CHOOSE.
WHEN YOU SAY, "YES, I BELIEVE", YOU HAVE FAITH, whether or not you feel the presence of God.
​Do not mistake your emotional experiences for proof of your salvation either, because otherwise you risk being tormented by doubt forever.
​We urge you to chose to believe and have faith! Jesus did His part. That's the Gospel. It's up to you to do yours by saying to Him: "Yes! I believe in you". That's all… it's that too simple?
An invitation trough an allegory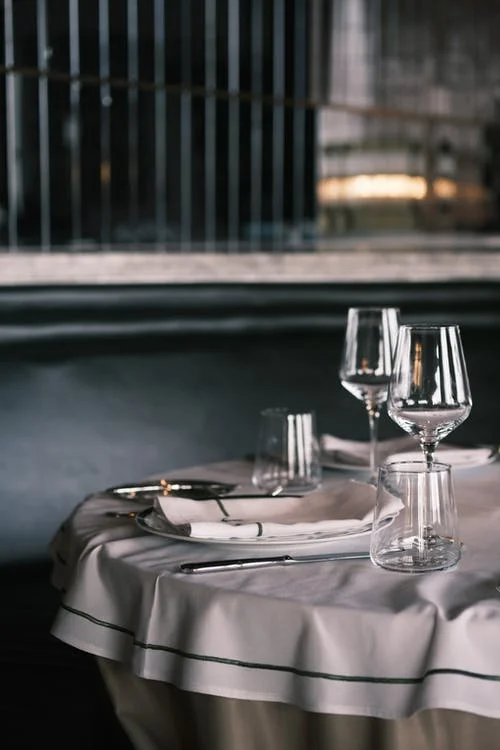 Imagine a man who receives an invitation card on which it is written: "You are invited to dine in a prestigious restaurant, at a specific place, with Jesus of Nazareth, this evening, at 8 p.m". The man thinks his collegues are pulling a friendly prank on him.
Is it a joke ?
Still, it spikes his curiosity; he goes to the indicated address, convinced that he will see familiar faces there. Welcomed by the butler, he stammers: "I am expected". He is then led to a beautifully laid table, towards a man in his thirties, dressed according to the dress code of our time who welcomes him warmly by introducing himself: "Nice to meet you, (I'm) Jesus! Our man shakes his hand, stating his name; Jesus answers him with a smile: "I know". Taken aback, the man looks around for his colleagues… nobody! Jesus begins to talk to him and talk about things about his life, even those he had tried to hide. A dialogue takes place…
God invites you to share a meal with Him
Today, Jesus wants to spend time talking with you. So He's inviting you to come dine with Him! The table is set and there are excellent dishes to taste! That's the Gospel!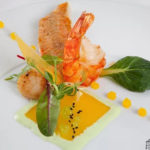 Undoubtedly we often expect encouragement, compliments or responses from those around us. God wants to speak with us and provide for us, whether it is to guide us, to encourage us, whether we need recognition or some kind of inner healing. God is a wealthy King. Let us rejoice in advance, thank Him that all the answers to our needs are on the way; that's faith. To have the assurance of things we hope for, the conviction of things we do not yet see.
In Psalm 23 it is said that God sets a table in front of our opponents: in the midst of a storm, while we are struggling to survive whatever is happening to us (job loss, illness, relationship problems, sorrow, etc.), God says, "Stop! I've set a table; stop and know that I am God". Thus His table has a double function: to feed us and to serve as a shield. Thus a moment spent in the company of Jesus supplies us and also serves as our protection. In His presence we are honored and valued, and we also find rest.
How do you response to His invitation?
At the time, Jesus spoke using a parable where He referred to a king who had prepared a feast for his son's wedding and said that the guests had declined the invitation providing bogus excuses. Even today it is possible not to realize the point in responding to His invitation: it is possible to live one's life without God.
God loves every human being and wants everyone to taste His meal. Based on what Jesus has accomplished, everything is ready and within reach. That's the Gospel. Do we ake excuses to avoid spending time with God? He invites you into His presence. Everything good and perfect for you comes from God. Jesus is calling you by saying, "Behold, I stand at the door and knock. If anyone hears my voice and opens the door, I will come in and eat with him, and they with me" (Rev. 3:20). So accept His invitation and come and taste how good God is! In fact, by His Holy Spirit, He even comes to dwell in those who accept His invitation.
Once restored, you'll be taking on a new mission. Indeed, He can not only reveal Himself in you, but also through you. What you receive from God, you can share with those around you. You, in turn, can lead people to discover that Jesus can be their friend!
These are our wishes for you, dear reader!
Prayer: "O Jesus, thank you for your invitation. I hear your voice, I'm opening the door and am inviting you to come and live in my house, in my heart. I want to know you."
Who is Jesus?
Jesus is the Messiah who came to earth over 2000 years ago. He gave his life on the cross so that all obstacles between God and human beings would be removed, that our communication with God would be possible again and that we may have life.
According to the manuscripts of Isaiah…
Isaiah, a prophet who predicted the coming of Jesus 700 years ahead of time and whose manuscripts – called the Qumran Scrolls or the Dead Sea Scrolls – were found between 1947 and 1956, the date of which has been authenticated by reputable archaeologists, writing:
"Il grew before his eyes like un young plant, like a bud sprouting from dry soil. He wasn't beautiful or eye-catching in a way that would make heads turn, and there was nothing likeable about him. Despised and abandoned by Man, a man of pain, used to suffering, he was the one we turn away from: we disregarded him, we paid him no mind.
However, it was our suffering that he was carrying, our pain that he took on. And all we did was look down on him like he was being punished, struck and humiliated by God. But he was hurt by our transgressions, broken because of our shortcomings: The punishment that brings peace fell on him and it's by his wounds that we are healed. We were all like lost sheep: each man for himself, following his own lead, and the Lord made all our mistakes fall on his shoulders. He was mistreated, humiliated, and he never said a word.
Like a lamb being led to the slaughterhouse, a muted sheep before the ones who are shaving of it's wool, he never said a word/…/ he stripped himself until his dying breath and was counted among criminals, because he carried the sin of many men and he stepped in in favour of the guilty."
From the Bible : Isaiah 53.
Two childhood friends reunite:
one is a judge, the other is a criminal
In the United States, on 30th June 2015, an anecdote surfaced:
A judge named Mrs. Glazer recognizes her former schoolmate A. Booth on trial for a burglary. The judge then asks him, "Mr. Booth, did you go to Nautilus College?"
The man who was appearing then widens his eyes and shouts: "Oh! My God!" Hey! Yes! Two childhood friends have just found eachother! Mr. Booth bursts into tears while the judge Mrs. Glazer is sorry to find him in front of her. "I always wondered what you had become!" she explains. She then says that he was an adorable child back then, the nicest in college. She reminisces about how they used to play football together and adds, "What have you become! I'm really sorry to see you here! Disappointed by this finding, she says she hopes her former classmate will be able to change! She concludes with, "Good luck to you! I hope you will be able to get out of this mess and live legally!" Indeed, Mr. Glazer seems ready to get himself together.
​According to some unverifiable sources, the judge was face with a dilemma: she would not have wanted to punish her former schoolmate, but as a judge, she had to be fair. She therefore sentenced him to pay a fine for his misdeed. But after the trial, she signed a check of the amount of the fine and gave it to him.
Similarly,
we ourselves were meant to be sentenced, but Jesus paid the price for us. Not with money, but with his own life! That's the Gospel!
"You have been bought at a great price. Therefore glorify God in your body and in your spirit, which belong to God" (1 Cor. 6.10).
Be an agent of your transformation
Here are various elements for your metamorphoses and interior restoration with God.
You're on the way to experiencing a new path in life that will now bring profound changes
Click on GOSPEL page, or RESOURCES page, or INSPIRATIONS page...
The Gospel
The Gospel page aims to reconnect you to God, who loves you and is waiting for you.
Resources
A page that helps you identify your wounds and heal them… to heal and live, instead of surviving...
Inspirations
Here is a photo gallery to spark your meditations/quiet time and lead you in prayer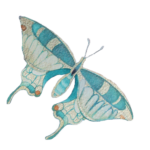 Comments, suggestions?
Your e-mail adress will not be transmitted or published